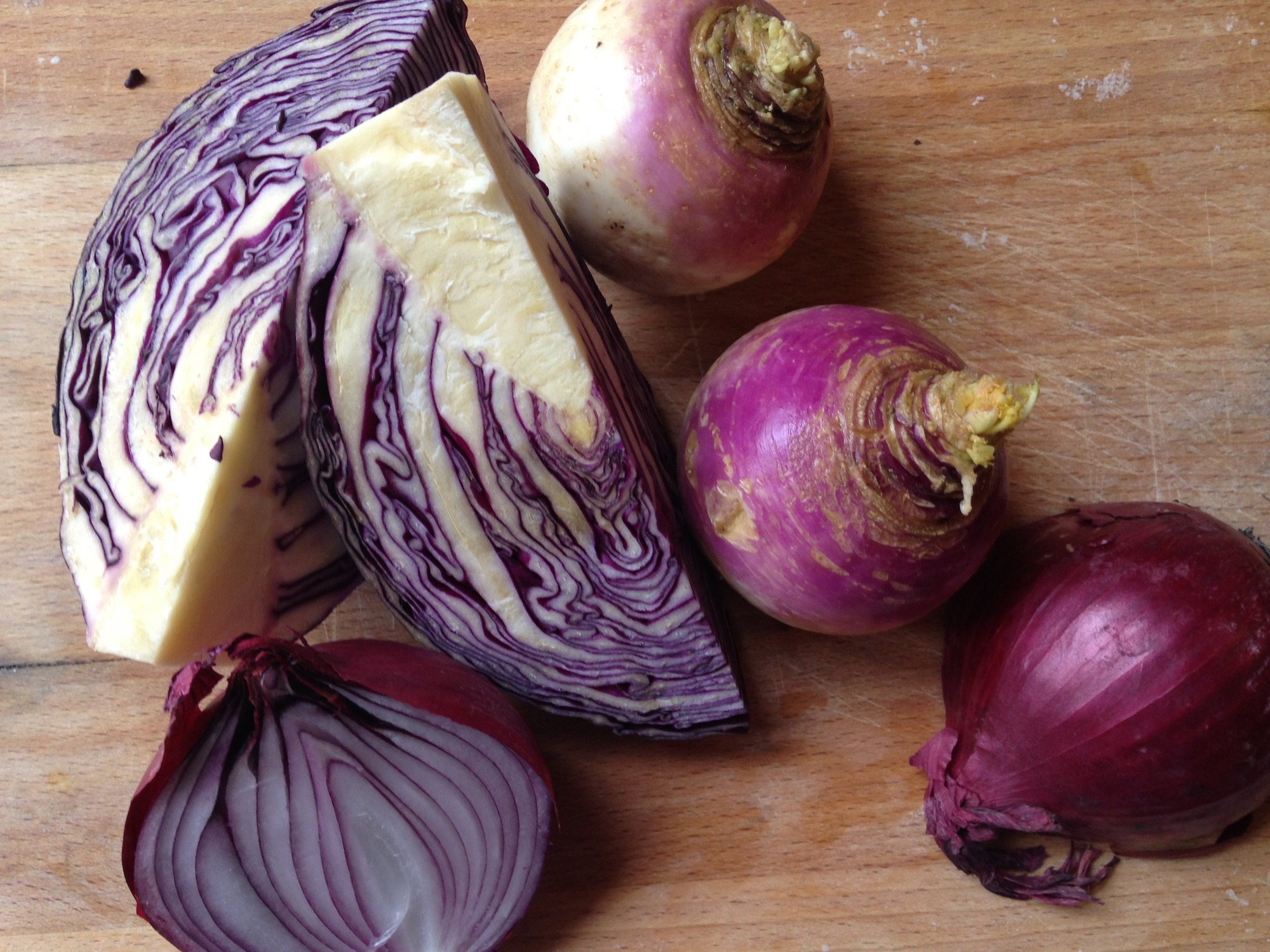 Make you winter meal pop with purple
Despite the white and grey sky that accompanies our winter days, this season is actually full of color. I've been keeping warm by whipping up Everything Orange soups (pumpkin, carrot, turmeric, golden parsnips…) for some nice antioxidant and immunity boosting meals. I've also been having fun with cabbage- which is full of so many great vitamins like vitamin K, C, and B6. The bummer with cabbage is that we so often boil it within inches of its life - making it both soggy and tasteless but also totally void of all its nutritional benefits.
In the spirit of staying healthy- and colourful- I came up with this easy and inexpensive dish using red cabbage, red onion, and turnips to make a pretty purple salad because let's be honest red cabbage and red onions are really purple, right?! Most importantly, everything in this salad is raw- except for the red onions which macerate in lemon juice before being added, a little trick I learned while making Samin Nosrat's Bright Cabbage Slaw from her brilliant cookbook Salt Fat Acid Heat.
If you want to fancy this salad up a bit, you could add toasted hazelnut or some fresh herbs like parsley or cilantro or whatever is in season. Bread crumbs would also give the salad a hearty touch. Make this salad a main dish by adding a poached egg on top or serve as a starter or side to a nice grilled white fish or a lovely and similarly raw ceviche.
Below is the basic recipe, but don't hesitate to have fun as you go- whatever gives your purple some punch!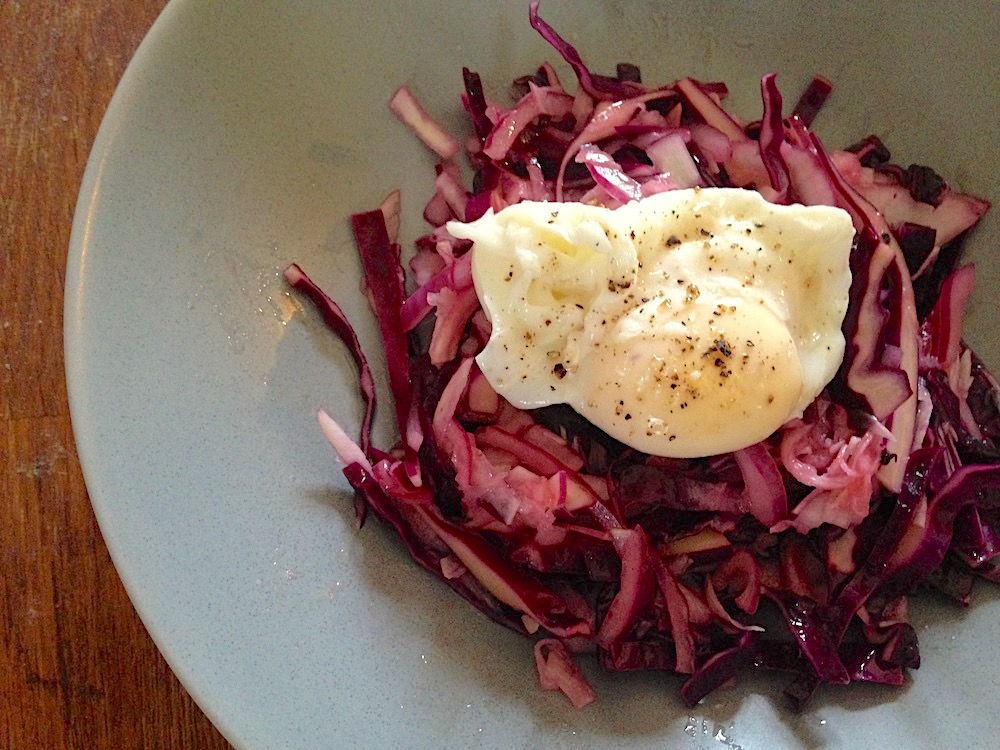 Makes enough for 2 as a main, or for 4 as a side
Ingredients:
1 large red onion
1/2 cup (118 ml) lemon juice
1 medium head of red cabbage
2 turnips
2 tablespoons apple cider vinegar
6 tablespoons olive oil
Salt and Pepper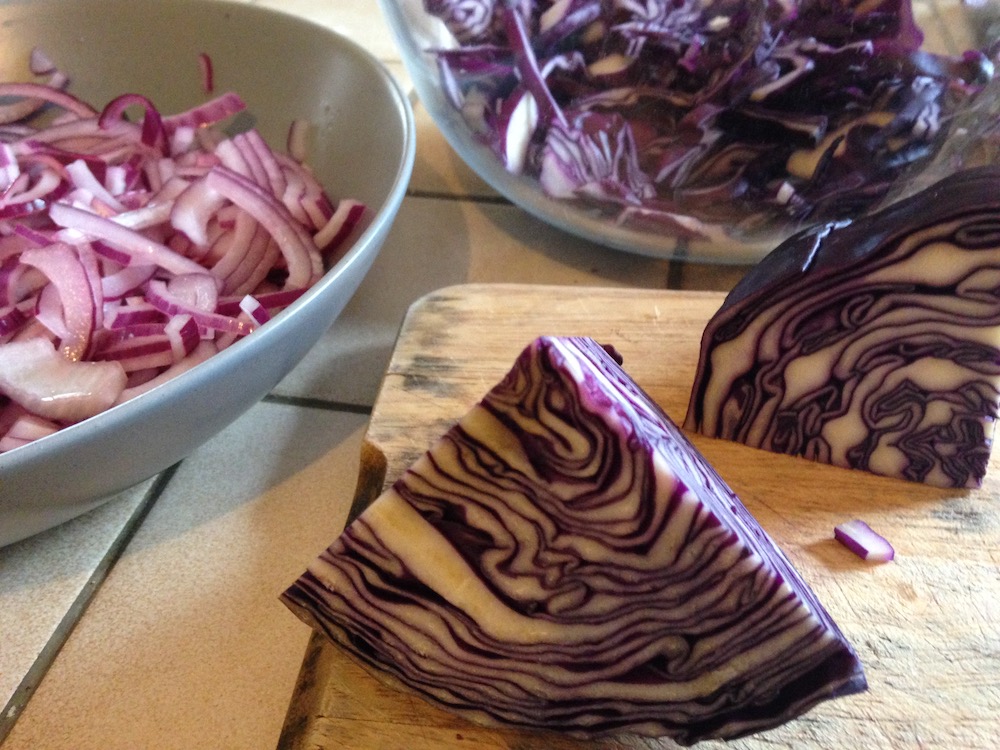 Remove skin and roots from red onion and cut into four quarters. Thinly slice the onion and place in a bowl or shallow dish. Pour lemon juice over onion and stir to coat. Let sit at least twenty minutes.
Remove the loose or frayed leaves from the red cabbage and cut in half. Remove the stem by cutting diagonally into the cabbage and removing the thick white core. Cut the halves of the cabbage in half, and then in half once again (see image above). Thinly slice the cabbage so that you have thin ribbons. Add these to a salad bowl.
Remove the skin from the turnips if it is too tough (in winter the skin will be thick, unlike the baby turnips in the spring). Cut off the root ends and then cut turnips in half. Using the largest setting/side of a mandoline or cheese grater, slice the turnip into the salad bowl with the cabbage.
Using a slotted spoon, remove onion from lemon juice and add to the cabbage and turnip mixture. Set lemon juice aside. Toss cabbage, turnips, and onion together to combine.
In a small bowl, combine lemon juice and apple cider vinegar, whisk together while slowly adding olive oil until the mixture emulsifies and becomes a vinaigrette. Add a dash of salt and pepper and stir in, then adjust to taste.
Add vinaigrette to salad and toss until evenly coated. Taste a piece of cabbage and adjust seasoning again if necessary, adding more salt, pepper, oil, or vinegar. Serve immediately.